Mariona Gastó Jiménez, summer is Rota and Hotel Duque de Nájera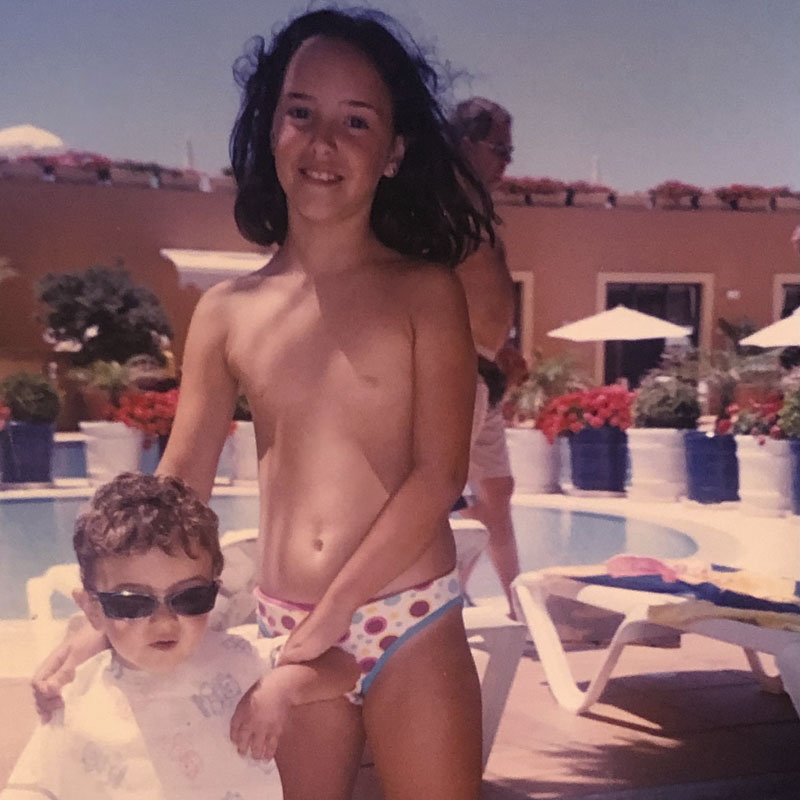 Mariona Gastó Jiménez, all her life summering at the Hotel Duque de Nájera
In Hoteles Andaluces con Encanto we are happy to know that there are clients who have been coming to our hotels for years; who began to come as children with their parents and now, as adults, continue to choose us for their holidays. This is the case of Mariona Gastó, a lifetime loyal to the Hotel Duque de Nájera in Rota.
When do you remember coming here for the first time?
I have a lot of mixed memories, but I think the first one is when I was 3 or 4 years old, playing in the children's pool, with other children my age.
Yes with a year. I was born in '96 and the hotel opened in '98, we came just before I turned two, in the fall of '98.
And why do your parents decide to come here and not somewhere else?
We summered on the Mediterranean coast, but there it was very hot day and night. We had to put on the air conditioner and I was catching a cold, because I was very sensitive to temperature changes.  They discovered the Duque in Rota and wanted to try to see if the nights here were cooler, so that I would not catch a cold anymore. They tried that fall, they really liked it, they came back the next fall, and from then on every year until we were slowed down by the pandemic.
What first impression did they have, because it was a different culture, what idea did you have of this area?
I grew up with the habit of my two weeks of summer in Rota, which for me was to go to the known. I had friends here, I was hoping that summer would come with a lot of desire to see them. I have grown up with my Andalusian summers and I cannot imagine them otherwise.
What was the gastronomy, leisure, free time, sun, beach…?
The gastronomy is very high, like the fried fish, it is something that is unthinkable up there, we do not eat it the same. Leisure also but different because everyone when they come on vacation comes to relax and I remember, from the beach to the pool, from the pool to the beach, visiting something of course, but above all enjoying with my friends. And I would put the facility to relax, it is a very quiet place.
It is curious because you have grown up with many people who are still working here, you will have a very close relationship.
Yes it has been a very nice relationship, we have come on purpose for a wedding or whatever, of people we know here.
Yes, in the hotel the staff is still from when I was little and just recently I was having dinner at El Embarcadero and there was Juan, he has known me since I was a child.
And the future as you see it, are you going to keep coming?
I would like to continue coming, the truth is that I have just come that a couple of years ago that with the pandemic did not come and immediately I was very clear that I wanted to come, even if it was a few days now at Easter and in the future if I have a partner and I have children, I would like to continue coming, because for me the summer is Rota and Hotel Duque,  because a summer when I'm older than in the Duke and Rota I find it very difficult to imagine.
Categories: blog
« Hotel Playa de la Luz and its proposal for the little ones
Club Surf Educa and its new program of activities »