3×3 Basketball Tournament in Rota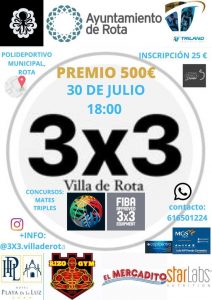 This coming Saturday 30.07 a FIBA ​​3×3 basketball tournament will take place in Rota. This is the first edition of this type of competition in our town and will attract national level teams.
From Hotel Playa de la Luz we wanted to contribute our grain of sand by being one of the sponsors of the event.
It will take place next Saturday 30.07 from 6:00 p.m. at the Antonio Barriento "Chispa" Municipal Sports Center
We invite all basketball lovers to come and enjoy the event.
Categories: Activities
« Charity White Party Beach Club Hotel Playa de la Luz
The 52nd Edition of the Fiesta de la Urta arrives »